How to Choose the Best Yoga Mat
Whether you are deciding to enter into the world of yoga or if you are having trouble with your current yoga mat, it can be seen that there are many options available. Not only are the mats available in different materials, but they also come in different sizes, thickness and features. Successfully choosing a yoga mat will enable you to follow a range of yoga positions, meditation poses and relaxation poses. It will also help you to realize the true potential of each yoga positions by allowing you to be comfortable and satisfied.
Types of Yoga Mat Material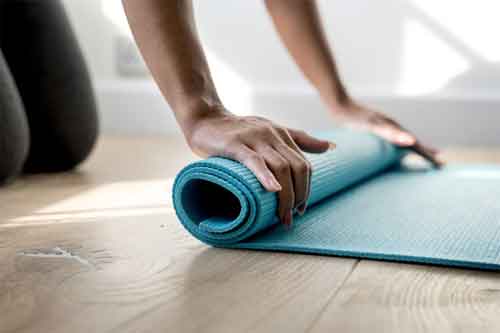 No longer are those participating in yoga limited to those generic blue PVC mats as now mats are available in a variety of colors and materials. Since those that participate in yoga tend to be more environmentally and health conscientious, now more yoga mats are advertised as being non-toxic, made of natural materials and environmentally friendly in order to gain a larger share of the market.
PVC: This has traditionally been a popular choice for yoga mats because if its sticky nature. Even though this sticky feeling is preferable to many people, it can get annoying and uncomfortable. This material tends to be the most durable and provides the most give.
Rubber: Yoga mats are available made with either natural or recycled rubber. This provides an alternative to PVC that is also slip resistant with its thick and textured surface. These mats should be kept out of the sun, as they are sensitive to direct sunlight since natural rubber tends to dry out, harden and lose its grip. Look for open-cell natural rubber, as it is a renewable resource that is made from rubber trees and do not contain PVC. However, those that are allergic to latex should avoid yoga mats made of this material.
Cotton: Yoga mats can be found in either organic or natural cotton, yet are not as widely available through local stores. Some of these mats are available with an inner lining and padding so that it is even more comfortable. The biggest advantage to having a cotton yoga mat is that it soaks up your sweat, instead of becoming slippery as with other types of materials. However, in general with some positions the mat tends to slip on the ground instead of staying put.
Yoga Mat Thickness and Size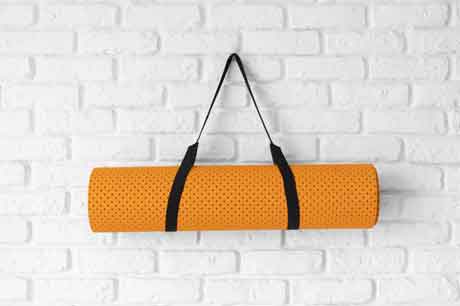 The thickness of the mat can determine how comfortable you will be throughout your exercise and whether you will have a strong connection to the floor. A mat should be thick enough to protect your spine, knees and elbows when making contact to the floor. According to https://jonasmuthoni.com/blog/yoga-reduce-weight-in-10-days/, Steam of Consciousness blogger, if the mat is too thick then your knees may get injured when doing such positions as the crescent lunge. But if your mat is too thin, then you will have a difficult time finding your balance when engaging in poses such as the tree pose. Yoga mats come standard at 1/8 inches thick, but you can find ones both thinner and thicker. The thinner yoga mats are generally for travel, as they are both lighter and less bulky, making them easier to transport.
Also, ensure the size of the map is large enough so that it can accommodate you while in various poses and extensions. There are mats available in extended width and length sizes in order to accommodate individuals of various shapes.
Durability
Determine how often you will be practicing yoga and the type of yoga you will be participating in. If your sessions will be very physical and intense or if you will be doing yoga more than twice a week, consider purchasing a mat that is thicker than average with superior traction. If your yoga sessions will be mild and more relaxing, then a universal mat will suffice. Consider investing in a higher quality mat if you will be doing yoga often so that it can withstand the wear.
Sweat-Absorbense
The mat should be able to absorb moisture, so that you do not uncomfortably slide when a bit sweaty. Cotton yoga mats provide the highest level of moisture absorption. You want to ensure that there is enough absorption so that you do not slip while switching positions and hurt yourself.
Easy to Clean
It is easiest to purchase a yoga mat that is machine washable. This way you can wash the mat regularly to avoid some funky smell during your tranquil yoga sessions. Ensure that the yoga mat is durable enough to withstand many washing, as some of the cheaper mats are not meant to be washed frequently.
Finding a Quality Yoga Mat
Yoga mats are available in a wide range of retailer stores that sell other sports products, however, quality mats are often difficult to find. Before purchasing a mat, be sure to find one that will be thick enough to support you, is wide and tall enough to fit you in a range of poses, is durable so that it will last longer, sweat absorbent so that you do not get injured, and is easy to clean.